It is estimated over 180,000 Cambodians are visually impaired; 90% of these impairments can be prevented or corrected. In 2002, when the AHC Eye Clinic opened, there was little or no eye care available for the population, much less the paediatric population.
Since the Eye Clinic's inception, Mrs Soeung Dychanny has been part of the ophthalmology team, helping treat Cambodian children with eye illness for over 20 years.
In 1982, Channy, seeking a better life, sought to flee Cambodia with her five children. She arrived at a refugee camp on the border with Thailand, hoping to immigrate to the USA, which like many other Cambodians at the time, never became a reality. Channy and her family remained at the refugee camp where she started working as a medical assistant in the camp hospital, joining the six doctors and 10 nurses in the fully occupied 120-bed ward.
After years of living and working in the refugee camp, Channy received sponsorship to study paediatrics at a medical school in Paris in 1993. While there, she also took the opportunity to become a translator for the Director of the United Nations Transitional Authority in Cambodia (UNTAC), a peacekeeping operation during the early 1990s. Channy learned to speak French, English, and Thai, which would prove instrumental throughout her time at AHC.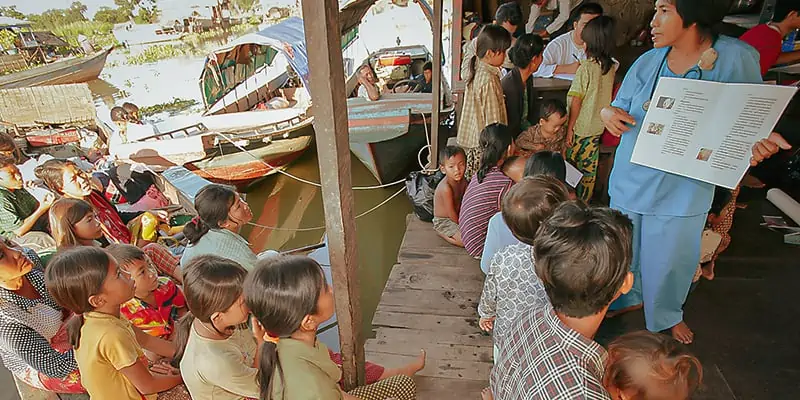 When Channy returned to Cambodia, she heard about a proposed new hospital project, Angkor Hospital for Children, and was eager to apply and work in paediatrics. She tracked down AHC's founder, Kenro Izu, to give her CV in-person. She would soon be the very first hire at AHC, in July 1998.
"On the first day AHC opened, we had 35 staff all lined up in their uniforms waiting for patients to stream in. But since the public had no understanding of what AHC was, only 13 patients showed up that day; luckily for those patients they had multiple doctors and nurses available to treat each of them."

Kenro Izu, AHC's Founder, in 2012
Channy was hired primarily as a nurse but also to act as a translator between AHC's English speaking medical volunteers and the Khmer speaking staff, patients, and caregivers. Later, she trained as a physiotherapy nurse, becoming an integral part of AHC's Home Care Program providing HIV counselling to patients. In all of her early positions, she was an indispensable link between Cambodian families and patients from the countryside, providing basic health information and critical translation between the medical experts and patients.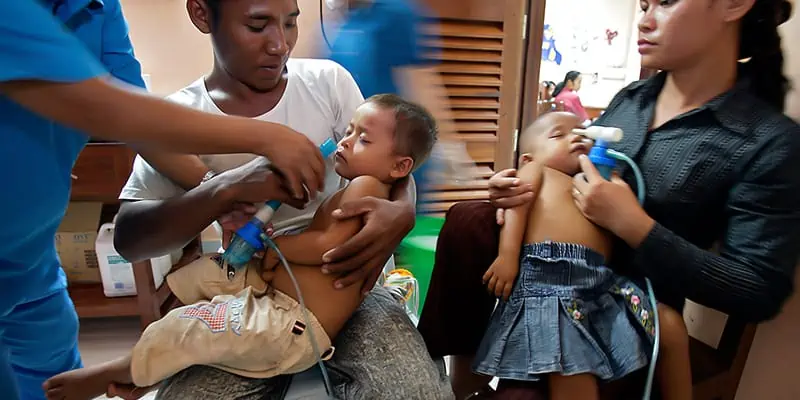 In 2002, Channy began working in the newly formed AHC Eye Clinic. Eye care in Cambodia was severely under-resourced at the time. The limited number of the ophthalmic personnel did not have any formal training, which in many ways still rings true today; AHC employs one of only two licensed paediatric ophthalmologists in Cambodia.
Since its establishment, the Eye Clinic has become one of the AHC's busiest units, seeing 1,200 patients a month on average. In 2013, the Clinic began treating eye cancer, with help from St Jude Children's Hospital and Singapore University.
"Despite our development over the years, eye care in Cambodia still needs help. We need more ophthalmologists and eye clinics providing eye care to the remote communities of Cambodia."

Mrs Soeung Dychanny, Deputy Chief of the Eye Clinic.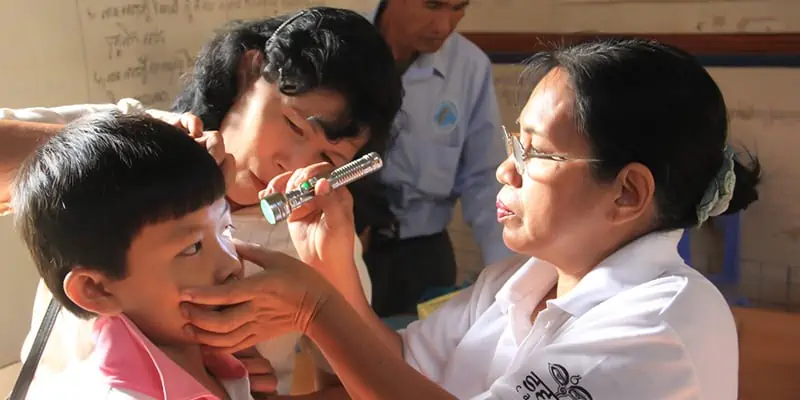 Today, Channy is AHC's Deputy Chief of the Eye Clinic. Like all our frontline medical staff, she is dedicated to caring for Cambodian children as her own every day she comes to work. Their dedication and sacrifice is why AHC is regarded as the standard of paediatric healthcare in Cambodia.
Our continued mission is to ensure that essential health care for children in Cambodia remains available during the COVID-19 pandemic – leaving no child unwell. Help us continue to provide essential care: donate now.
Thank you to long-time volunteer Nancy Storrow, who interviewed and profiled AHC's veteran staff.